back to blog
written by John Lyons on May 3, 2018
Custom Containers for Food and Chemical Applications
In food and chemical applications, custom containers must meet high quality standards and pass rigorous testing to meet regulations. At Fingles Metalworks Inc., we work with our customers to create custom containers that meet and exceed your expectations.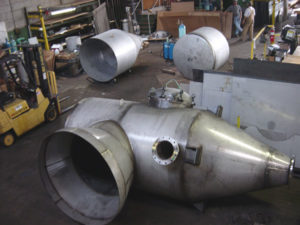 Custom Container Fabrication & Installation
Based on your API specifications, we fabricate and install custom containers for your unique application. If you have a specific challenge in which you need a custom container, our team can also work with you to engineer a completely new design. We have worked with companies in the food and chemical manufacturing and processing industries for years and have experience creating custom containers that meet strict regulation requirements.
Quality Materials for Quality Containers
We have several materials available for your custom container fabrication including stainless steel 330, 321, and 316, as well as carbon steel, aluminum, Duplex stainless steel, and Hastelloy.
Quality Assurance Testing
Because your products go through strict testing to meet industry requirements, we make sure our custom containers also go through rigorous testing. We employ hydrostatic testing, x-ray testing, and any other testing you deem necessary prior to installation to ensure quality standards are met.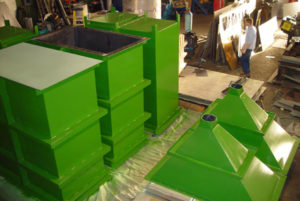 Expert Custom Container Welding
Every piece we create is assembled and sealed by certified welders, you can feel confident that the seams and welds will not only look good, but will maintain the high quality standards you expect for the life of the container.
Custom Container Diversity
We have created custom containers for the food and chemical industries ranging in size from 18 inches to 192 inches in diameter, and at up to 30 feet in elevation. No matter how big or small your custom container needs are, we can find a solution to meet your needs.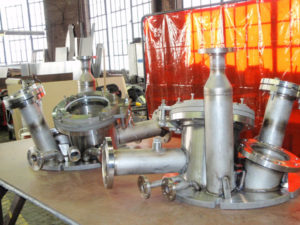 Our Experience is Your Advantage
The team at Fingles Metalworks Inc. has been making custom containers of a variety of shapes, sizes, and applications since our inception. For the pharmaceutical industry, we created a custom container with multiple penetration points to create a unique container with proprietary abilities. For the chemical and food industries, we have created silos that can hold anything from highly volatile chemicals to coffee beans awaiting the roasting process.
Whether you need a custom container to move high temperature exhaust from an extensive chemical process, or you simply need a silo as part of your food manufacturing process, Fingles Metalworks Inc. can meet your custom container needs.
Ready to get a quote or learn more about the materials, manufacturing practices, and quality assurance testing we use on every custom container project? Contact our team today.